The Havre de Grace Auto Repair Shop You Can Count On
You depend on your car, truck, or SUV to get you to work, to the grocery store, to the doctor, you name it. So, it can be frustrating when the check engine light comes on, or your vehicle stars making weird noises. All you need is an auto repair shop you can count on to diagnose the problem and make the repairs quickly, without costing you an arm and a leg.
That's where we come in. Located on Pulaski Highway in Havre de Grace, the Budget Automotive auto repair shop comes highly recommended. Just check out our Google reviews!
We can handle most general auto repair issues for older cars and newer models, both foreign and domestic, including:
Air Filter Replacement
Auto AC Repair
Battery Testing and Replacement
Check Engine Light Service
Electrical System
Oil Change
Radiator Repair
Spark Plug Replacement
Steering and Suspension
Windows, Doors and Mirrors
And more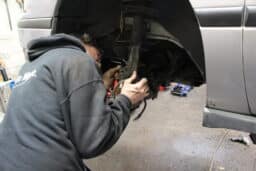 See our Brake, Tire, and Muffler Repair pages for information on those services.
Schedule Your Repair Service
To schedule your car repair, just call us at (410) 939-8460. Depending on what the issue is and what time of day you call, we may be able to get you in the next day, but definitely within a few days. Our mechanics are highly knowledgeable and skilled. We'll run the diagnostics and see if we can replicate your problem.
We will always provide you with a written estimate of repairs.
We'll fix anything you authorize us to. If we discover an issue that doesn't need an immediate fix, we'll let you know that. And we will NEVER tell you something's wrong when it isn't. We keep clients coming back for their auto repair needs by being honest, and offering quality work at affordable prices.